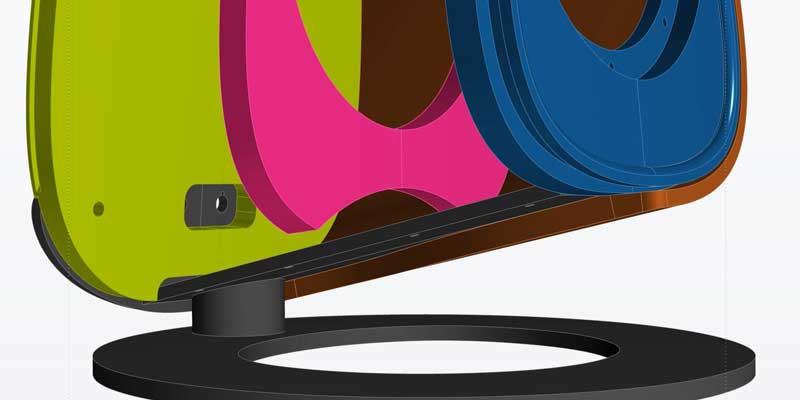 Racking the Brain


How does one come up with the best looking loudspeaker in the world? If only I knew.. But that is where the bar is, always. When the sound is in place, a design is due. Some designs are a struggle. Others are easier. The Solo came to me at night during a summer holiday. The base of the Panton 1-2-3 chair was to be the core and the rest followed naturally sketching on the computer. A 3D printed scale model confirmed that the complicated wood bending actually is possible.
All those Tools


With the overall design in place, it is time to figure out the details. Trying to anticipate the wood bending peculiarities in the construction. Troublesome detail was the oversight that the inward bending of the side panel meant that the left and right panel were no longer the same. Oops, 2 more tools needed for production. But the Solo was worth the extra investment and we pressed on. Seven tools for the pressing and cutting of the panels and final assembly were set in motion.
The first Peak


So great is that first peak of a new loudspeaker. With the final parts in hand we can build the first cabinets and use those to fine tune the cross-over. When all is set in stone, finally the parts are ordered. In total the whole design process takes about a year. And as always we believe that this new loudspeaker will be a company changing success that will put Davone on the map - the new VW beatle, Bose 901, iPhone no less. well, that has not happened yet. But being small certainly has its perks.